Celebrity Cooking Stage
___________________________________________________________________________________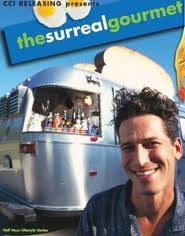 Food Network's Celebrated Surreal Gourmet
Bob Blumer
Host of Food Network's Surreal Gourmet
Host of Food network's Glutton for Punishment
Host of Food Network's World's Weirdest Restaurants 
Author of Pizza on the Grill & Glutton for Pleasure 
 On our Celebrity Cooking Stage, LIVE - Friday & Saturday
Gastronaut, culinary artist and seven-time Guinness World Record holder, Bob Blumer is the creator and host of the television series, Surreal Gourmet and Glutton for Punishment and host of the World's Weirdest Restaurants. His show airs in over twenty countries world-wide.
Blumer transforms ordinary ingredients into wow-inspiring dishes through simple cooking methods and whimsical presentations that have become his culinary trademark. He is the author of five acclaimed cookbooks and is co-author of the best selling Pizza on the Grill. Publishers Weekly summed up his most recent book Glutton for Pleasure as: "Equal parts memoir, lavish book art, multi-genre soundtrack and culinary de tour force."
Bob is an ambassador for Second Harvest in Toronto, and helps raise funds for several other noble causes. He also makes personal appearances and presents his signature surreal meals around the globe. In 2013 he returned to his artistic roots, creating a show of 25 surreal wine glasses and decanters he exhibited in Napa, CA, and designing a Surreal Gourmet Suite for Toronto's legendary Gladstone Hotel.  When he is not travelling for work or pleasure – which is most of the time – the transplanted Canadian cycles daily in the canyons near his home in Hollywood Hills, doing his best to stay in shape for his next big adventure.
Watch Bob create his famous Gluten-Free grilled pizza right on stage; and talk about other recipes from his latest top selling cookbook: Pizza on the Grill. 
    
_____________________________________________________________________________________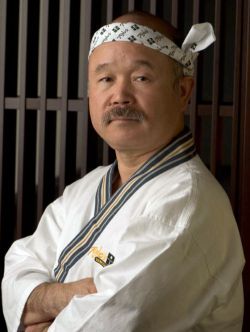 Hidekazu Tojo
Chef/Owner
Tojo's Restaurant
Hidekazu Tojo grew up in post-war Japan beneath the stunningly beautiful volcanic mountain named Sakurajima in Kagoshima, at the southernmost tip of Japan. As a young man he traveled to Osaka where he apprenticed at the famed Ohnoya restaurant, one of Japan's leading ryotei, a very high end, very traditional restaurant. During years of 16-hour days at the Ohnoya Tojo mastered an encyclopaedic repertoire of some 2000 traditional Japanese recipes that he can draw on from memory even today. Here he also developed the disciplines of selecting the finest and freshest fish and produce. Recognizing that his own passion for inventiveness was leading him beyond the then-strict boundaries of cuisine in Japan, Tojo chose to come to North America in 1971, where he felt that a multicultural population without preconceptions would be more receptive to his ideas. He found his perfect audience in Vancouver. 
Click here for more on Chef Tojo-san
_____________________________________________________________________________________
Cooking great fresh local pork from                                  
Brian Misko - House of Q
Bonnie Windsor - Johnston's
Prize Pork Presents for Your BBQ season
With his naturally inquisitive mind, Brian Misko has taken his passion about grilling from his backyard playground in Surrey, British Columbia to competing and winning awards around North America.
Starting with bbq competitions in 2006 in Vancouver and Whistler, Brian has lead his team to the Jack Daniels World BBQ Championships in 2009 and again this past October. House of Q completed this 2014 bbq season as the #1 Team in Canada. Brian was a guest chef at the Vancouver 2010 Winter Olympics with Vikram Vij, Pino Postero, John Bishop and Tojo at his side. His collection of trophies, plaques, ribbons and awards shows his determination to be the best.

Brian shares his know-how through regular interviews and cooking demonstrations on TV, newspapers and magazine articles. Thousands have seen his BBQ Tips on the Global TV BC Morning News, at a trade show cooking demonstration or at cooking classes across Western Canada.
Most exciting is his new title as cookbook author. Having just completed the editing Brian is looking forward to sharing his book, Grilling with House of Q, being released in spring of 2015.
Join Brian and Bonnie for some exciting cooking demonstrations and learn new techniques to use on your own barbecue this summer.
 ____________________________________________________________________________________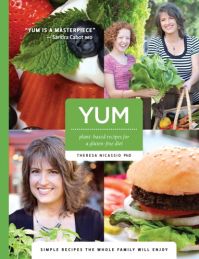 Dr. Theresa Nicassio
"The Inclusive Chef"
Author of - YUM: plant-based recipes for a gluten-free diet 


Dr. Theresa Nicassio ("The Inclusive Chef"), Registered Psychologist, author, and gourmet raw food chef, is an integrative mind-body wellness expert who has been educating and empowering clients, students and the public since 1987.  Her bestselling book, YUM: plant-based recipes for a gluten-free diet has won the 2015 GOURMAND WORLD COOKBOOK AWARD as the Best Diet Book in Canada for the public in English and now has the honour of representing Canada in the world competition with 209 countries in the same category. Promoting "inclusive cooking", YUM is filled with delicious recipes that are all free of gluten, sugar, dairy, eggs, potatoes, and all animal products. Theresa also contributes to public awareness through her blog www.yumfoodforliving.com, social media, magazine articles and other media outlets.
Presenting on the Celebrity Stage:
Dr. Nicassio will present 3 great demos that will knock your socks off. These are not only delicious treats, but are ones that most people can freely enjoy. All are easy enough for a 12-year-old to make and all recipes have been especially selected with allergy-friendly ingredients.
SPICY SZECHUAN EGGPLANT with RAW HOISIN SAUCE (gluten-free, dairy-free, egg-free, sugar-free, nut-free, seed-free, potato-free, citrus-free, nightshade-free, caffeine-free, bean & lentil-free)
MAC 'N' CHEESE  (gluten-free, dairy-free, egg-free, sugar-free, nut-free, seed-free, nightshade-free, caffeine-free) 
CUPCAKES with YUM's diabetic-friendly BUTTERCREAM FROSTING. This paradigm-shifting recipe that has no sugar, butter, margarine, shortening or lard is one that has the potential of changing the face of celebrations. It is Dr Nicassio's very special invention that is free of every common allergen!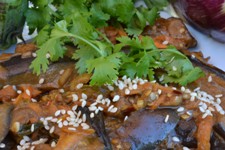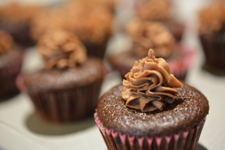 Publishers Weekly just published a wonderful review of Dr Nicassio's book, YUM: Plant Based Recipes for a Gluten-Free Diet..and they gave YUM a "Star" designation---Here's the review:
Refreshingly free of politics and polemics, Nicassio's book strictly focuses on the food, offering thoughtful and practical recipes such as her Best No Meat-Meat, a combination of mushrooms, walnuts, onions, and herbs used to create shepherd's pie, as well as spaghetti and veggie meatballs. Kid- and family-friendly food dominates the book, with vegan versions of mac and cheese, tacos, vanilla ice cream, and chocolate chip cookies, as well as inventive riffs. She employs baked polenta as a substitute crust for pizza and collard greens as a stand-in for tortillas in wraps—all of which are simple and ingenious. A highlight are her chia chips, a crunchy snack full of healthy ingredients that work well with all manner of dips. Even carnivores will find dishes like Rho's Giardiniera Pickled Vegetables and garlic-infused polenta hard to resist. Most recipes are as straightforward, though some, such as lemon cupcakes, call for a painfully specific ingredient (in this case, a quarter teaspoon of psyllium husk powder), which may be off-putting to initiates. That said, once readers have sorted out their preferences and tastes (particularly regarding which sugar substitute they'll be using), they're good to go. (BookLife)  http://www.publishersweekly.com/978-0-9939156-0-4
Dr. Theresa Nicassio on CTV Morning News
Press Release, June 2, 2016
YUM: Plant-Based Recipes for a Gluten-Free Diet Wins 
"BEST IN THE WORLD" Gourmand World Cookbook Award
YANTAI, China, June 2, 2016 /PRNewswire/ -- D&D Publishing is pleased to announce that YUM: Plant-Based Recipes for a Gluten-Free Diet by Dr. Theresa Nicassio has won 2nd in Gourmand International's 2016 BEST IN THE WORLD Awards (Category: Best Diet Book). These prestigious Awards are compared to the Olympics in scope and in glamour to the Oscars, with over 10,000 submissions from 209 countries competing for this year's awards.
Representing Canada as the 2015 National Champion and global award winner, Dr. Theresa Nicassio's game-changing cookbook, YUM: plant-based recipes for a gluten-free diet, opens the world of possibilities in a way that no other cookbook has been able to do, infusing life-giving messages throughout its pages.
 ________________________________________________________
Chef Dez
Author of Cook Topless
Chef Dez is a Culinary Travel Host, the Western Canada Rep for Big Green Egg, and recently appeared on Chopped Canada on Food Network Canada. He has been a Culinary Instructor in BC for over 12 years and his teachings are regarded as Innovative and Inspirational. He also has a following of thousands of regular readers of his national newspaper food column "Chef Dez on Cooking". He is the author of 3 print cookbooks and the hottest new eBook on Amazon called "Cook Topless".  He has a bigger than life passion, for both food and people, and his column, cookbooks, and travel tours are the ultimate guides to bringing the culinary world alive in your home.   www.chefdez.com
____________________________________________________________________________________ 
Chef Nicole Mackie
Owner/Executive Chef
Salty Fig Catering Company
Nicole graduated from the Vancouver Community College culinary arts program and has been cooking professionally for the past ten years.
She started her career by creating food styling for food shows and celebrity guests on the lower mainland.  Recently she relocated to North Okanagan/Shuswap where the Salty Fig Catering Company was born.
Today, Nicole coordinates cooking classes for local residents , in partnership with local farmers and not for profit organizations, bringing the community together one meal at a time while encouraging a back to basics outlook to create a locally sustainable future
_________________________________________________________________________________

Thompson Tran 

 
Executive Chef/Owner 
"The Wooden Boat" 
(Catering & Product Line)
Thompson Tran began his cooking career age 14 at his family's Vietnamese restaurant in Langley, BC . 
Thompson has worked at several prestigious restaurants in Vancouver namely Bishop's, Il Giardino, Nu, Westwood Plateau Golf and Country Club and is a teaching chef instructor in SD 36. Thompson has been a guest judge at numerous provincial high school cooking competitions, featured in EAT Fraser Valley CTV Master chefs Competition, the online spokesperson for Pacific Institute of Culinary Arts (PICA), a featured chef at the BCSPCA Offleashed Gala 2014, and has worked along side internationally famed food stylist Nir Adar. 
 
Presently, Thompson is working on his own retail product line and runs his own catering service specializing in Vietnamese and French fare. 
_____________________________________________________________________________________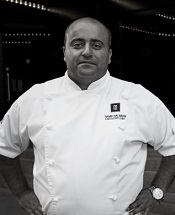 Chef Hamid Salimian
Nextjen gluten Free
Known for his soulful modern cuisine, award-winning Chef Hamid is the Captain of Culinary Team Canada, and creative consultant to a variety of Vancouver's most respected restaurants.

Among his many accolades, Hamid has been awarded titles in some of the world's most prestigious culinary competitions such as the World Culinary Cup and World Culinary Olympics. He holds eight international gold medals and has also been a coach for Team BC and the Canadian team for Bocuse d'Or 2013. As Captain of Culinary Team Canada, Hamid is currently preparing for the 2016 World Culinary Olympics in Germany.
Today, Hamid acts as a contributing culinary expert for such media as the Vancouver Sun, Vancouver Magazine and CTV, and shares his knowledge and expertise with a new generation of chefs as an instructor in the VCC Culinary Arts program while leading Culinary Team Canada.
Chef Jennifer Peters
Nextjen Gluten Free
Chef Jen Peters honed her skills as a protégé of Chef Bruno Marti, the beloved godfather of fine dining cuisine in Canada. Jen then worked and trained in Michelin-starred restaurants in England. After returning home to Vancouver, BC and discovering she was gluten intolerant, she was determined to find a way to keep delicious breads, scones, and pastas in her life. In her own home kitchen, she began research to create a gluten-free, hassle-free all-purpose baking blend that would allow her to enjoy life without giving up her favourite foods or settling for low-quality alternatives. In 2012, Jen finally perfected her recipe and founded Nextjen Gluten-Free with her partner, Chef Hamid Salimian.
 _____________________________________________________________________________________